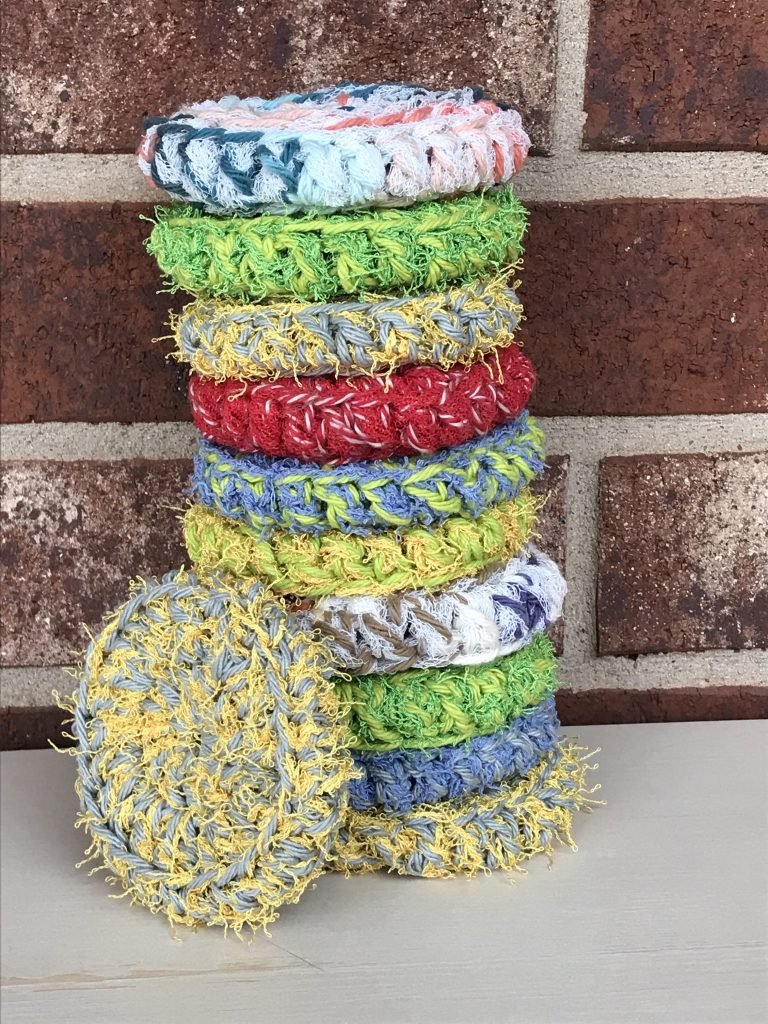 Growing up, both of my grandmothers made nylon dish scrubbies.  So, of course, I thought everyone knew about these things.  Apparently not.  But… I've found that once someone has used one, they are usually hooked!
I think they are a great alternative to a kitchen sponge.  I use one every time I wash dishes.  They have more scrubbing power than a dishcloth.  (Which, by the way, I plan to post about in the future!) .  They are good for cleaning a messy pan but are gentle enough to clean a non-stick surface without scratching up the coating.  And…maybe the best part – they can be machine washed & dried!
These are a quick and easy project, and make great gifts!  It's also an easily portable project.  I've made many while sitting at my daughter's swim practice, or swim meets.
Several years ago I decided I wanted to make some scrubbies;  but unfortunately, I didn't get a pattern from either of my grandmothers before they passed away.  So I turned to the internet of course!  These scrubbies have been made for generations so I was sure I could find a pattern.  And, I found MANY!
This is the pattern that has become my favorite:   https://www.ravelry.com/patterns/library/tulle-dish-scrubbers
People make these types of scrubbies with various types of materials.  Most often with nylon netting or tulle.  Red Heart even has a scrubby yarn on the market now!
The ones I remember from my grandmothers used the nylon netting.  Using the nylon netting by itself makes the "scrubbiest" texture.  However, I've found I prefer to incorporate a kitchen cotton yarn too.  My favorite to use is the Lily Sugar n' Cream cotton yarn.
Here are examples of different versions that I've made.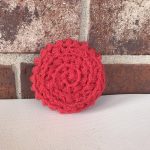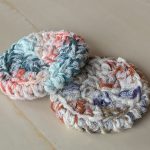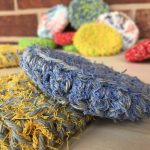 If you want to make your own and are still new to crocheting, I suggest trying the Cotton Yarn with Scrubby Yarn.  The nylon netting is a bit harder to work with and requires some prep work before you can begin to crochet.
I like all 3 of these versions.  So, give them all a try and find your favorite!
Are you interested in a tutorial?  Let me know!  I haven't made one yet, but can certainly give it a try!
Do you want a scrubbie (or two, or four), but don't want to make your own?  Send me an email!  I'm looking into possibly opening an Etsy shop or some other way to sell some of my creations.
Thanks!
Tiffani