The trim over the office door in our house creates a little ledge that is perfect for seasonal decorations.  It's in the main part of our house, so we see it every day and I think it's a perfect spot to add some fun decorations throughout the year.  It's not very wide, so it's not like decorating a mantel, but I like hanging banners or garlands there.

Since Valentine's day is coming up, I thought a cute Valentine garland would be perfect! But, not just plain hearts… how about a childhood favorite? Conversation hearts! What Valentine's day is complete without those pastel-colored treats?

My kids are older now, so don't have Valentine parties at school anymore, but we remember having lots of the candy conversation hearts over the years.

This was an easy project, and one you can create at home too if you'd like! I used my Silhouette Portrait 2 to create hearts. I used the sketch pens for tracing the words prior to cutting the hearts.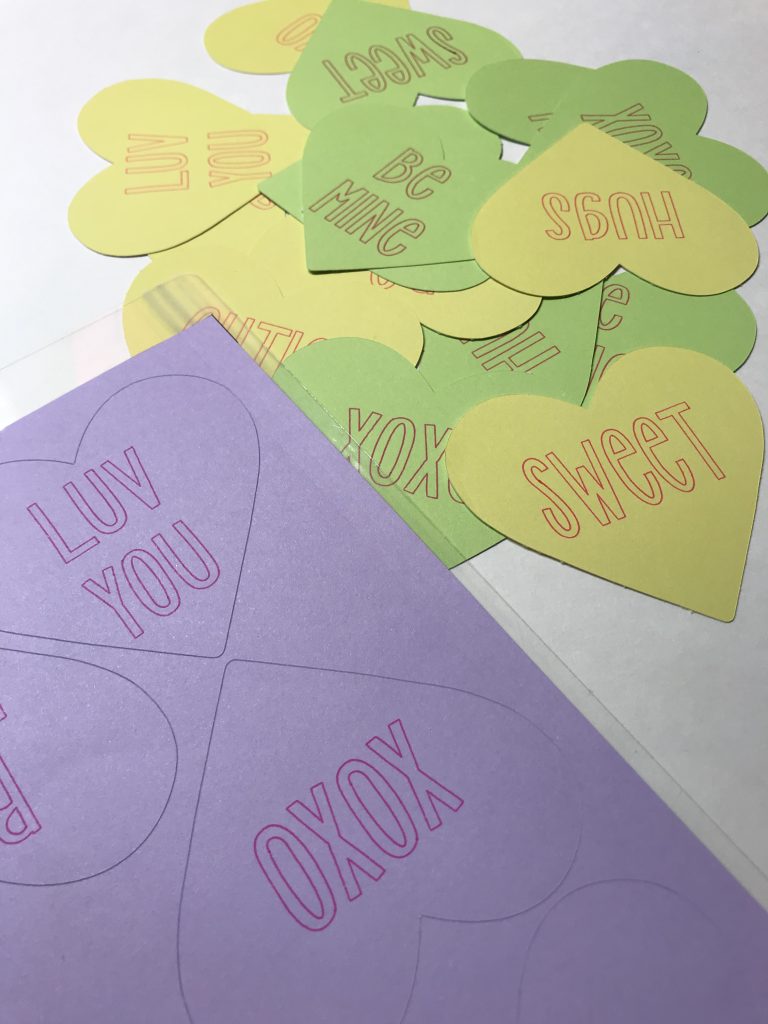 While I could have cut holes with the Silhouette too, I didn't. I wanted to punch holes in different places of the hearts, so they would be a bit askew. However, you certainly could add holes to the file before cutting.

Once the hearts were cut, I used a hole punch to punch the holes for hanging. I used my Fiskars rectangle punch, but you could certainly use a round punch or another shape.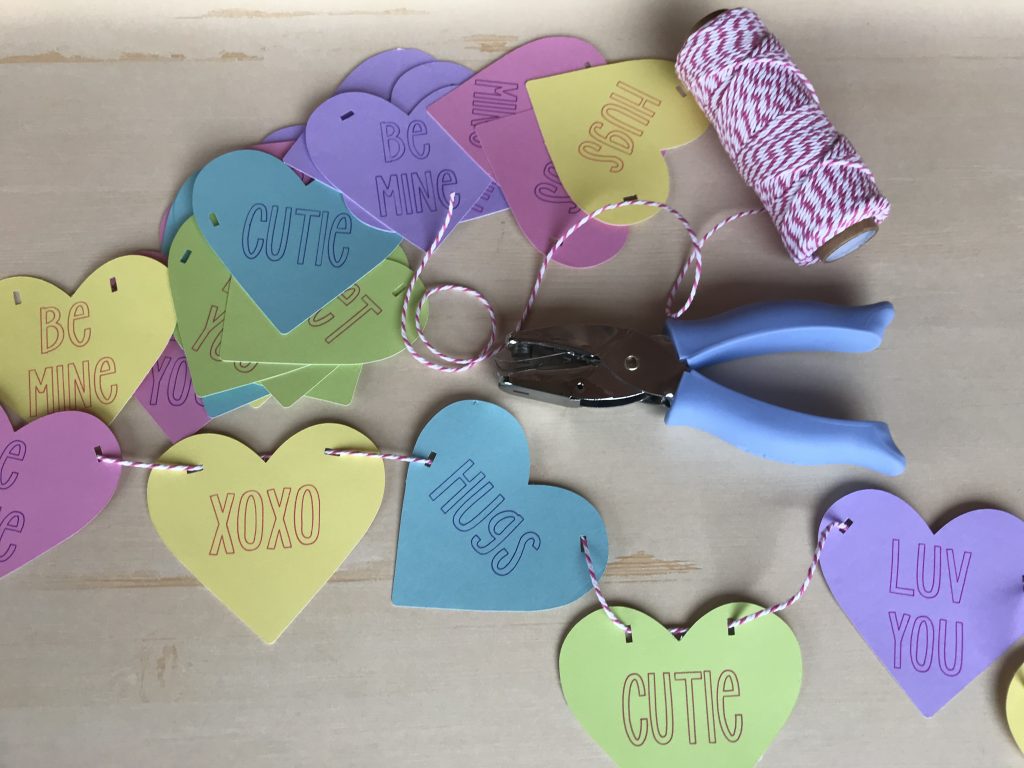 I used bakers twine to string the hearts. I like bakers twine for lots of uses – and, have many colors on hand. I thought pink was perfect with the hearts! You could also use any ribbon, twine, or yarn you have on hand.
I really like how it turned out. As you can see, I had enough hearts to make two banners. (Please excuse the clutter of the office behind the door. It's so hard to take a picture of this area!)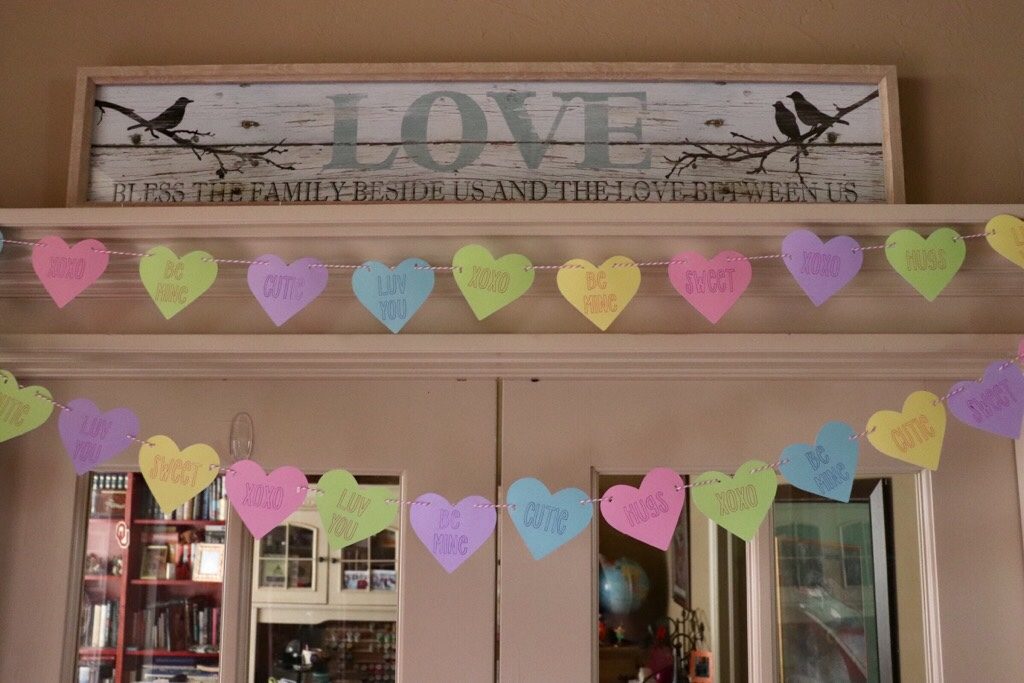 I hung it outside to try to get some better pictures. It's hard to get the full length and be able to read the hearts – but you get the idea! I think this would be adorable hanging on a mantle too! Or a classroom wall? Ah, so many places where something like this could hang!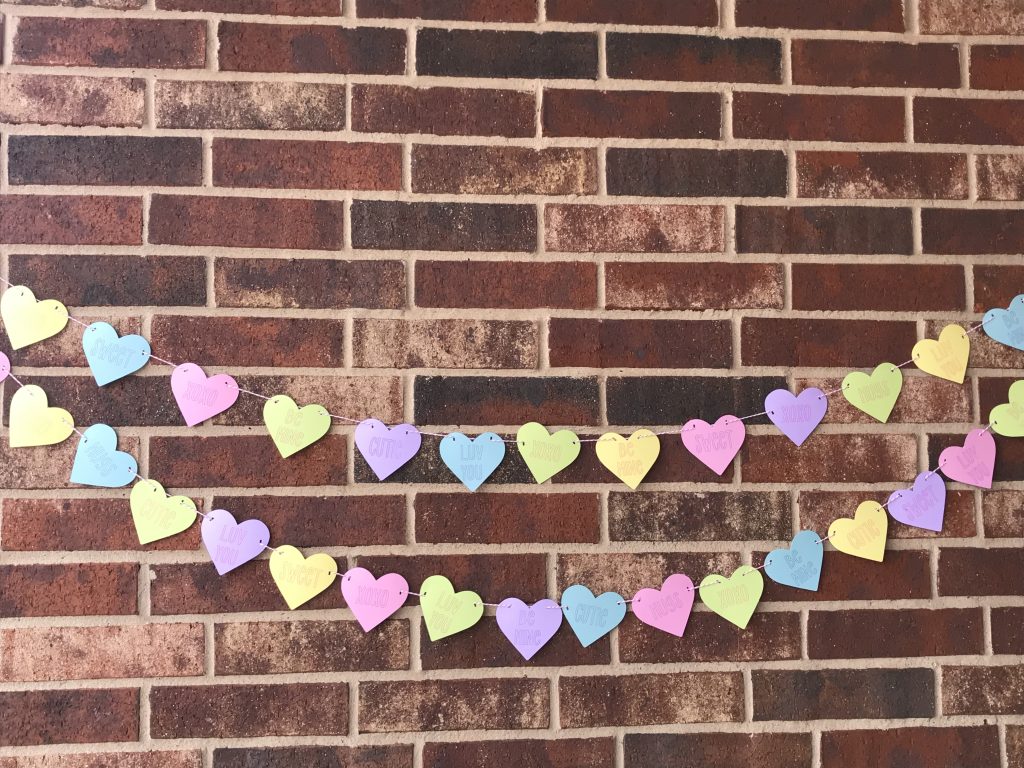 Want to make your own banner? Don't have a cutting machine to design your own?  Download the pdf, print on cardstock, then cut out with scissors!
These hearts would also be cute spread around as table decorations, or even used as valentines for a school party!
Ideas for using as valentines:
Puch two holes and insert a sucker stick
Cut a couple of slits and insert a cute pencil
Simply tape a piece of candy to the back
I hope you enjoy and have a Happy Valentine's Day!