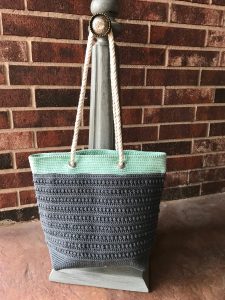 I love bags of pretty much any size and shape.  I came across this pattern via a Crochet-Along (CAL) on Facebook and thought it was so cute I had to give it a try.  This was a fun bag to make, and I can see myself making more.  If you are brand new to crochet, it might be a little challenging, but the pattern designer has posted some great instructional videos so it's doable for any skill level!
I used the recommended Lion Brand 24/7 cotton yarn in Charcoal and Mint;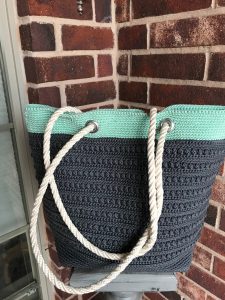 And my Clover Amour crochet hook – size E, 3.5 mm.
I found the rope for my handles at my local Joann store.
I already had the grommets on hand, but I did see them at both my local Hobby Lobby and Joann stores.
Want to give it a try?  Here is a link to the website with the pattern, and great instructional videos!