I thought I would share some ideas for those of you with a gamer in your life.
My son (Colton) turned 11 recently and asked to have a few friends over for a "game night" birthday party.  While we had a mix of board, card, and video games to play at the party, the decorations had mostly a video game vibe.
To get started, I used my Silhouette Portrait 2 to create the invitations. I received my Silhouette as a Christmas gift, and am still learning all of the features of this awesome little tool!  Colton helped me search the Silhouette Design Store to chose the images and fonts.  I used the "print and cut" feature to create the invitations.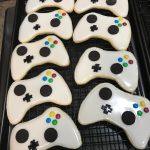 I also used my Silhouette to cut out shapes for the game controller cookies.  I cut the shapes out of cardstock and used those shapes to lay on sugar cookie dough and cut around.  I decorated the cookies using a poured cookie icing recipe, mini M&M's, and mini Oreos.  I didn't think to take pictures of the process, but if you would like more information please let me know and I'll try to put together a tutorial.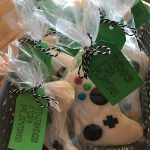 We used these cookies as one of the party gifts.  I turned to the Silhouette again to make little Thank You tags that went along with the theme.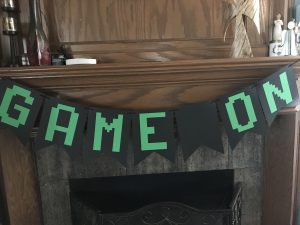 And finally also using my Silhouette (do you see a pattern here?…lol), I put together a "Game On" banner to hang on the mantle.  I cut a simple pennant flag shape out of black cardstock. I made sure to add 1/4″ holes to the top corners of the pennants so I could string them together.  Then printed the letters out of green cardstock and glued the letters to the pennants.  I used some black yarn to string the pennants together and hung it up!
We had snacks set out on a table…things like chips & queso, pretzels, brownies, and fruit.  And, we ordered pizza for dinner.
The boys had fun playing a variety of games!