I just learned that today is National Pineapple Day…who knew?  (Maybe lots of people, but not me!)
To celebrate…here is a throwback to some cute pineapple party favors we made for my daughter's Pineapple themed birthday party last year.
The picture quality isn't great.  I didn't plan the picture taking, and I was scrambling to take some pictures before the party and didn't have very good lighting.  But, you will get the idea.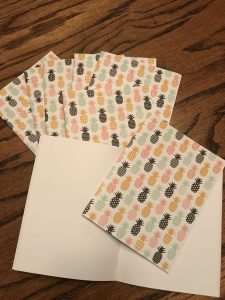 Cute paper notebooks, with pineapples on the cover!
These are super easy to make.  You just need scrapbook paper with a cute print, some blank or lined paper for the pages, and your sewing machine!
I found the tutorial for Sewn Notebooks over at madeeverday.com.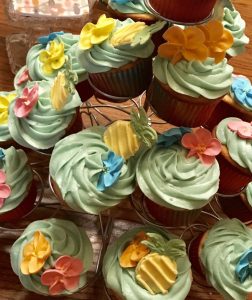 Tropical cupcakes with royal icing decorations – including pineapples!
My daughter and I made the royal icing decorations and cupcakes.  One of the things I like about royal icing decorations, is you can (and need to) make them in advance.  Then, it's a quick way to decorate the cupcakes (cake) on the day of the party!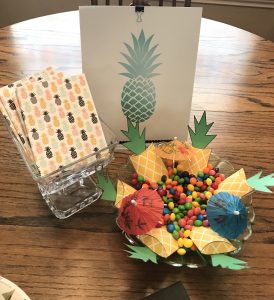 We had a cute pineapple printable for a table decoration that I found here.
For additional table decorations and party favors, we used some cute pineapple pillow boxes, and drink umbrellas in a bowl of skittles.
I hope some of this gives you ideas for pineapple celebrations of your own!